WHAT SCHOOL DISTRICTS ARE SAYING
"Now includes PRINT and DELIVERY service for your Act80 files. Just choose the printing option and we will have the final file printed, packaged and delivered to the State.""
"Can I just say that this is such a great platform! This has completely changed how time consuming the Act 80 process can be."
"I can't understand why every school district is not doing this? It saves not only my team, but all of my surronding districts time and paper and ink which is expensive and tough to find. It just makes sense!"
"Act80 Automated will save your staff a tremendous amount of time verifying addresses and eliminate data entry to completing 1329 forms. Reach out to your neighboring districts and spread the word!"
Welcome to our newest members of Act80 Automated!
"Great time saver. I really like this system."
"We are extremely happy with Act80 Automated. It saved approximately three weeks of looking up 5,000 addresses. We found Act80 Automated easy to use and loved the map feature – especially on a few addresses that are on the border."
"I will definitely use this again next year."
Centralized dashboard
ACT80 Automated provides a consolidated view of Taxpayer processing.
REVIEW TAXPAYERS IN RESULTS
The Results page provides a single location to review and action all taxpayers, outgoing 1329s and incoming 1329s. Results also provide a history of actions.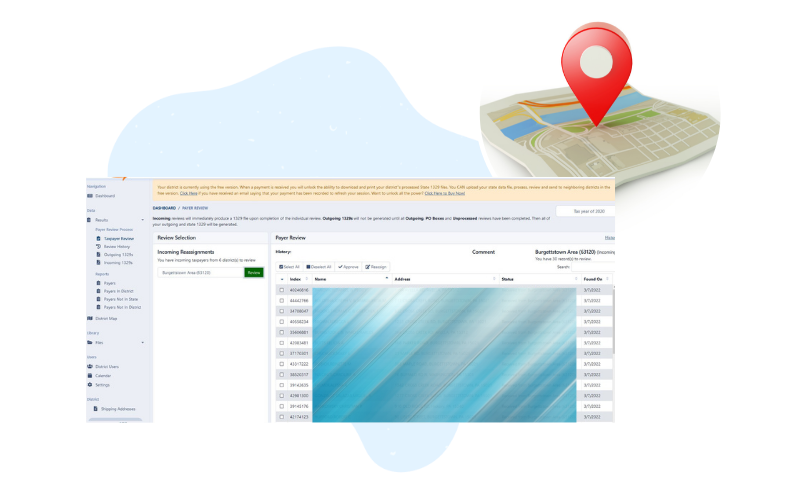 REPORTS
Print or download the pre-built reports for All Payers, Payers in District, Payers Not in State and Payers Not in District.